Products
Non-contact and non-constraint bedside safety monitoring systems, Owlsight for social welfare
This product is a bedside safety monitoring system to promote normal and comfortable life for those under care while reducing burden of caretakers. The non-contact, non-constricting sensor and artificial intelligence monitor the entire bed of a patient and reports the state of the patient including alarms in case of danger. Owlsight will provide information for the infrastructure of total community care systems and support the ultra-aging society.
Link to the introduction video of OWLSIGHT®
Features of the system
Sensor which blends with the bed room
The sensor can be installed at high places such as on the wall or ceiling to monitor the safety of patients. Its form like a light fixture does not make it stand out and interfere with daily life.
Non-contact and non-constraint
Owlsight uses an infrared non-contact sensor, which will eliminate the physical burden on patients. The patients can have normal life without any contacts on their body, nor constraints.
Detects large and minute movements
Owlsight detects large movements such as standing, leaning against bed railings as well as minute movements such as agonies and shivering which are difficult to detect even with human eyes. By detecting biological information, Owlsight can discern the presence of the patient regardless of a quilt or blanket.
Quick report of the abnormality of patient
Our sensor determines the degree of danger. When Owlsight detects danger, it will immediately notify caretaker's smartphone, which provides a sense of affinity.
Pay attention to privacy protection
The smartphone provided to caretakers will show images without visible light. These images will enable caretakers to verify posture and movements of patients, but face and clothes of the patients cannot be identified, which protects the privacy of the patients.
Verify the history of patient's movements
Owlsight retains the log for 3 months, which will enable caretakers to analyze the cause of danger.
Examples of conditions which are reported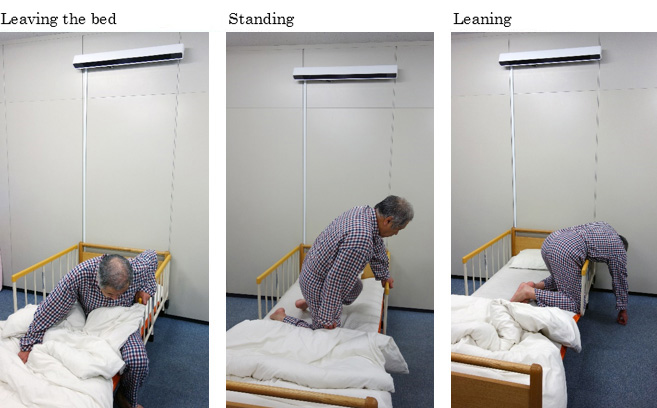 The system discerns postures which may lead to leaving the bed or falling and reports alarming conditions such as "danger" and "check" through the user's terminal with a visible sign and sound.
MOVIE
Bedside safety monitoring system OWLSIGHT


Bedside safety monitoring system OWLSIGHT
"Sitting Up & Standing Up"

Bedside safety monitoring system OWLSIGHT
"Leaning over the Bed Rails"
Bedside safety monitoring system OWLSIGHT
"Leaving the bed & Biological Signs unfound"

Bedside safety monitoring system OWLSIGHT
Bedside safety monitoring system OWLSIGHT

Installation examples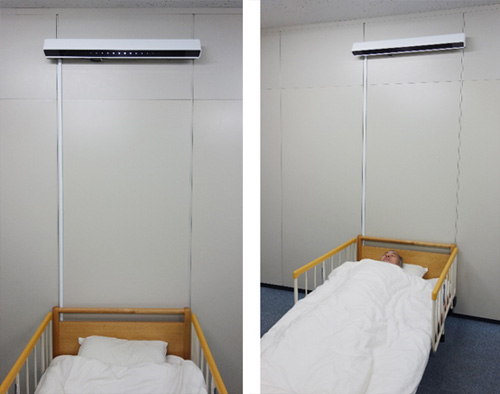 Sensor unit

Display unit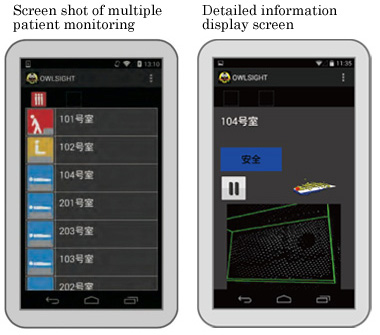 Main specifications
Product name

non-contact and non-constraint bedside safety monitoring systems, Owlsight for social welfare

Model number

OWE-BWDE01JP

Power requirement

AC100V(50/60Hz) 20W

Light source for the sensor

Near Infra-Red laser: Class 1

External dimensions and weight

Length 1,000mm*Depth100mm*Height70mm
Approximately 2.7kg

User and environmental conditions

Applicable bed size

Width < 1000 * Length * 2000 (mm)

Network

The control and the display units have to be connected by wireless LAN (WiFi)

Applicable patients

Height: 100~200 cm
Weight: 35~120Kg

Mounting position

On the wall or ceiling, 1800~2500 mm above the head of the bed without a quilt
Please contact the following for more details of our systems.
Phone: +81-44-201-8864
e-mail: sales@ideaquest4u.com